Introducing Our Valentine's Day Range
The Hearts Collection

This year for Valentine's Day we wanted to create a range of chocolates that not only tasted sensational but almost looked too good to eat! We sat down with our head chocolatier Candy, tried many testers (it's a hard job!) and eventually decided on the four chocolate hearts you see today.
The Gold Caramel Heart – A milk and white chocolate heart shell filled with our very own secret recipe smooth caramel. We've finished with a sprinkling of gold because… why not?!
The Ruby Praline Heart – The latest chocolate trend, Ruby chocolate! It pairs incredibly well with nuts and so we've created our Ruby Praline.
The Peach Splattered Heart – Splattered with orange and red cocoa butter, this heart looks too good to eat but go ahead, really, you can!
The Dark Cherry Heart – Rich and luxurious, a smooth 55% dark chocolate shell filled with mouth-watering fondant infused with award winning Bracken Hill's Morello Cherry and Kirsch jam. It is quite special!
The Hearts Collection are available to buy in a 12 box at £9 and 24 box at £17.50 in our shop or online.
The Love Collection Trio Bars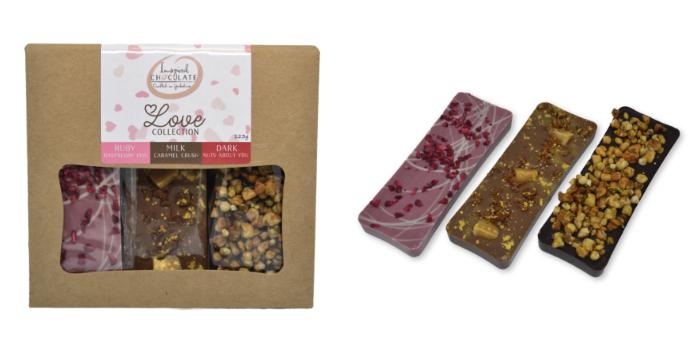 There is some Valentine inspiration in this trio of luxury chocolate slabs infused with mouth watering inclusions. Our Love Collection includes the following…
Raspberry Kiss – For a truly fruity flavour sensation, we've paired Ruby chocolate with delicious real, freeze dried raspberries and a drizzle of white chocolate.
Caramel Crush – Need we say more, who doesn't love caramel! Paired with smooth Belgian milk chocolate and looking gorgeous with a dusting of gold!
Nuts About You – Our 55% delicious dark chocolate adorned with a generous sprinkling of caramelised nuts.
The Trio Bars - Love Collection is available to buy in our shop or online at only £5.
Take a look at our other gifts perfect for Valentine's Day and other occasions here: www.inspiredchocolate.co.uk/shop

Richard Warne
Editor